About ECHN
ECHN represents those at the start of their professional careers in hydrogeology, irrespective of age.
Our objectives
To promote information sharing possibilities for early career hydrogeologists.
To provide support networks for members to discuss and develop ideas or schemes, through web-based forums, meetings, etc.
To preserve hydrogeological competence and experience via productive exchanges between junior and senior hydrogeologists.
To provide technical training via short-courses, master-classes at conferences and online sessions.
To enhance the social and professional networking opportunities of early career hydrogeologists, e.g. by specific events at conferences.
To strengthen the status of early career hydrogeologists within IAH by networking at conferences, congresses and within its National Chapters, Commissions and Networks.
Steering Committee 2016-2018
The present structure of the network consists of a Steering Committee, led by a Chairperson and two Co-chairs and Task Teams supported by a Advisory Team formed by previous chair and co-chairs of the network.
To ensure active participation of the ECHN steering committee, members are invited to join the committee for one year as part of the task teams. Following this time, members can reapply if able to continue involvement.
Membership of the steering committee should not be automatically renewed to allow for new member involvement, changing priorities of existing members and also reflect that involvement may be task specific or due to geographical location, e.g. assisting in a specific annual IAH congresses organizing committee.
Carlos Maldaner
Chair, CANADA/BRAZIL
Carlos is a PhD candidate at the Centre for Applied Groundwater Research at University of Guelph, Canada. His research focus on flow and contaminant transport characterization in fractured bedrock aquifers. He has a bachelor degree in Geology and a MSc in hydrogeology from University of Sao Paulo, Brazil.
Raquel Sousa
Co-chair, PORTUGAL
Raquel has a degree in Environmental and Applied Geology taken in the Science Faculty of Lisbon University and a MSc in Geological Processes from the Évora University where she wrote her thesis on hydrology, hydrogeology and GIS. Her biggest interests are groundwater quality, sustainable development, development and cooperation and groundwater management in low income countries and rural areas.
Rui Hugman
Co-chair, PORTUGAL
Rui obtained a MSc in Environmental Engineering from the University of the Algarve (Faro, Portugal) where he has since continued to work as a research assistant on several projects focusing on hydrogeology and groundwater resource management. His research interests centre on numerical modelling and their application for sustainable resource development, with a particular focus on the specific issues inherent to coastal aquifers.
Gaathier Mahed
Task team, SOUTH AFRICA
Gaathier has a background in hydrogeology with a focus on fractured rock. He has received extensive technical training in aspects of Groundwater in Germany, Denmark, Belgium, Morocco and Tunisia. He holds a MSc from the UNESCO Chair for Geohydrology and a Phd focused on Hydrogeophysics. Dr. Mahed also occupies voluntary executive and non executive board positions at various companies and NGO's.He was voted one of the Brightest Young Minds in South Africa for the year 2010. Mail and Guardian top 200 Young South Africans to take to lunch for 2011 and a World Islamic Economic Forum Global                                                      Young Fellow for 2013. He is currently a Senior Lecturer at the North West                                                            University, Potchefstroom, South Africa.
Sebnem Arslan
Task team, TURKEY
Sebnem is a hydrogeology specialist in the Department of Geological Engineering at Ankara University. She is also an Adjunct Associate Research Scientist at Lamont-Doherty Earth Observatory of Columbia University. She received her B.S., M.S. and Ph.D. degrees from Middle East Technical University, Turkey. During 2006-2007 she was a Fulbright visiting scholar at Columbia University where she carried out research as part of her PhD studies. Her research interests center on the use of environmental tracers in subsurface hydrology and arsenic contamination in groundwater.
Stefania Stevenazzi
Task team, ITALY
Stefania is a postdoctoral researcher at the University of Milan (Italy). Her research focuses on groundwater vulnerability assessments of porous aquifers and groundwater contamination related to the presence of urban areas.
Tirza Contreras
Task team, HONDURAS
Tirza is a hydrogeologist at National Company of Electrictiy in Honduras (ENEE), working in the area of underground constructions maintenance at the Francisco Morazán hydropower plant. She uses stable isotopes of rain water all over the reservoir to estimate the local meteoric water line. She has a MSc degree in hydrogeoloy from the University of Costa Rica (UCR) and is interested in karst hydrogeology and stable isotopes.
Advisory team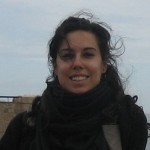 Viviana Re
Past chair (2013-2016), ITALY
Viviana is a Post-Doc at National Engineering School of Sfax (ENIS) – Laboratory of Radio-Analysis and Environment (LRAE) in Tunisia. She obtained a PhD degree from the Ca' Foscari University of Venice (Italy) in Analysis and Governance of Sustainable Development. Her research interests are isotope hydrogeology, groundwater quality monitoring, and groundwater management in rural areas.
 Judith Flügge
Past chair (2011-2013), GERMANY
Judith is a researcher and project leader at the German Gesellschaft für Anlagen- und Reaktorsicherheit (GRS) mbH. She received her doctorate degree from the Technische Universität Braunschweig (Germany) in 2009. Her research focuses on groundwater flow and transport modeling and on long-term safety assessments for nuclear waste repositories.
Matthys Dippenaar
Past Co-chair (2013-2015), SOUTH AFRICA
Matthys has completed his PhD in Hydrogeology on various aspects of vadose zone hydrology in urban settings at the University of Pretoria (South Africa) where he is presently employed as a lecturer. His research interests include unsaturated flow and multiphase flow through soils and fractured rock systems and the modelling and conceptualization thereof, as well as urban hydrology and urban water history.
Gillian Hurding
Past Co-chair (2013 – 2016), SCOTLAND
Gillian is currently a MSc student in International Public Policy in Glasgow         where her research is focused on the importance of hydrogeology for informed   WASH projects in developing nations. Before she was working as a                   hydrogeologist in Perth, Australia. She has a BSc honors degree in Earth           Science from the University of Glasgow and a Postgrad Certificate in Energy   and Environmental Management. Her interests include sustainability policy,       climate change mitigation and urban geothermal aquifer resources.
                              Mark Cuthbert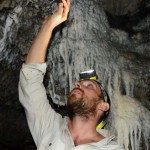 Past co-chair (2011-2012), UNITED KINGDOM
Mark is a post-doc at the University of Birmingham, UK, currently seconded to University of New South Wales (UNSW), Sydney, Australia. His primary research interests are groundwater recharge, stream-aquifer interactions and paleohydrology.
Past Steering Committee members
The ECHN is grateful for all past steering committee members, see all of them here.
How we started
Initial steps towards the formation of this network were taken at the 38th IAH Congress in Krakow (Poland) in September 2010, where the first young/early career hydrogeologists' session was held. After this meeting a group of nine junior hydrogeologists teamed up to start efforts. In July 2011, the group was officially recognized as an IAH network, and from there ECHN has developed and grown rapidly. Originally intended to support the young hydrogeologists below the age of 35, the network now speaks up for those at the start of their professional careers in hydrogeology irrespective of their age.
ECHN founders (2010)

Judith Flugge (Germany), Mark Cuthbert (UK), Jay Thakur (Germany), Anna Kuczynska (Poland), Grant Ferguson (Canada), Lucy Leyland (UK), Robert Hoogeveen (The Netherlands), Sophie Vermooten (The Netherlands) and Viviana Re (Italy).
Promotional material
The following promotional materials can be used to advertise the ECHN in hydrogeology related events.