46th IAH International Congress: "Groundwater Management and Governance: Coping with Water Scarcity", Malaga, Spain
IAH Congress time!
Malaga, 2019: here we are!
ECHN Annual General Meeting
The Annual General Meeting was held on Monday, September 23rd, with the participation of about 60 attendees. During the meeting, some attendees asked for opportunities in the working world for an ECH, for help in the creation of a National Branch in their own country and to be involved in the ECHN Steering Committee.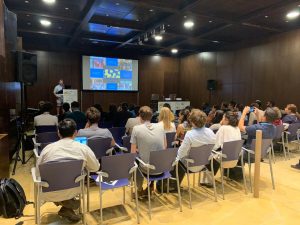 We gathered two new members joining the Steering Committee, Jade Ward (U.K.), as co-chair, and Fatima Monji (Netherlands), as part of the task team. Luis Camilo Suescún (Colombia), Antonia Genot (Chile), Richard Hoffman (Belgium) and Yassine Echelfi (Honduras) are the new recruits that joined the Steering Committee in 2019. The Steering Committee and ECHN would like to acknowledge and express its gratitude to Raquel Sousa, the outgoing co-chair, for her passion and contribution to the growth of the ECHN.
ECHN Social Function
The Botanical Garden of the University of Malaga was the scene for the ECHN Social Function on Tuesday evening. Lounge music, beer, and some Spanish traditional products, as "jamón serrano y queso", delighted the cocktail party. There, more than 120 attendees were encouraged to meet new people among the congress participants by playing a hydro-bingo game and looking for "a geochemist", "a modeler", "an Asian guy", "an African girl", etc. At the end of the night, everyone came back home with a new network of contacts from all over the world!
ECHN Side Session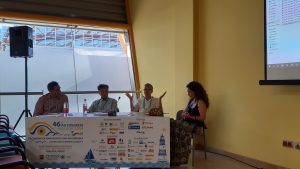 The ECHN side session was organised to align with the congress' theme on Groundwater governance and management. The session was moderated by our very own outgoing co-chair, Raquel Sousa, who coordinated a round table discussion with an esteemed panel of experienced hydro's. The panel was comprised of Dr. Makoto Taniguchi (Japan), Dr. Neno Kukuric (Netherlands) and Fanus Fourie (South Africa).
ECH Keynote
The ECHN approached our keynote a little differently this year by hosting a competition to all early careers to submit an abstract. IAH and UNESCO allowed us to give an Early Career keynote and supported the keynote speaker with a cash prize.
The keynote was awarded to Stefano Viaroli who presented an excellent keynote titled "The Good, the Bad and the Bottled: considerations of the effects of our habits on the water and environment protection". Stefano closed the 2019 IAH Congress on Friday, September 27th.